Start with an arm.
Add a cup holder to the arm for those much needed beverages during a good movie. You have a choice of either silver or antique finish for the cup holder.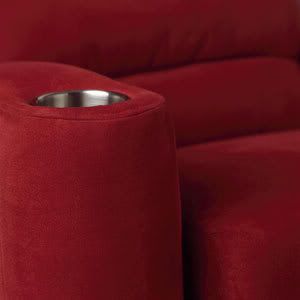 Do you want to create a sensation like the one of being a part of the movie? If so, then start thinking about adding a bass shaker system to your new Palliser home theater seating. How about going a step further and adding a wireless bass shaker system? Now, that's an idea. No more of those tangled wires and no more tripping over them. Now you can experience firsthand every shake, thump, and force just the way bass sound was meant to be felt. In that case, add a wireless receiver to the arm.


Now add the recliner.

The recliner is really a wall hugger that only needs 2 inches of wall clearance. This feature is ideal for those with smaller apartments.
Do you prefer manual recline or the effortless power recline for infinite positioning? Do you prefer the recliner handle on your left side or on your right side? It's all possible. Now add the bass shaker, the amplifier, and the RF receiver into the seat of the recliner.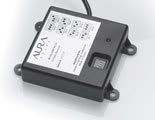 RF receiver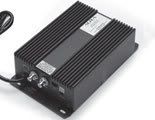 Amplifier



Bass shaker



Add the opposite arm.
Assemble all together and now you have a theater seat.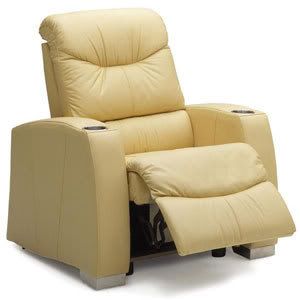 Don't like the stainless steel finish of the legs? No problem, there are more options for leg finishes.
You want it in fabric? There are more than 100 different options with different fabric grades. Would you prefer padded microfibers with a soft natural hide appearance? It will add a twist to the collection, as it not only has the look and feel of a suede, it is embossed with a leather-like pattern. Microfiber families demonstrate a long-lasting endurance to the demands of any lifestyle. Or do you prefer woven chenille with a screen-like design that will add depth and dimension and will blend effortlessly with any décor? It's all possible.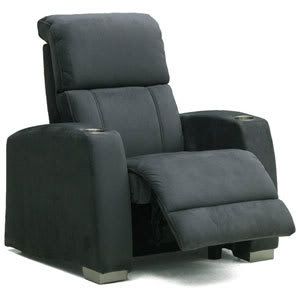 Or do you prefer leather home theater seating? Again, there are quite a few options with different grades, colors, and feels. Do you have kids or pets? If so then choose one of the protected leathers with features that holds up well under daily use, are protected and semi-aniline, feature impressive durability for daily use, and have most natural markings concealed. Or do you like the feel of soft, supple natural leather with natural markings that are visible and that feature full-aniline leather with a classic, natural surface? Natural leathers can be modern and stylish, with a hint of rustic charm.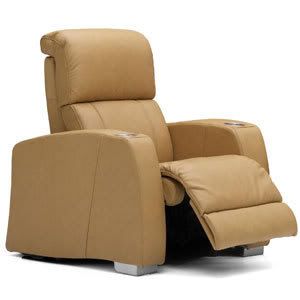 Do you prefer different styles? How about a more traditional one with nail heads?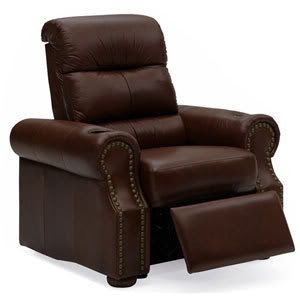 Want to add more seats across?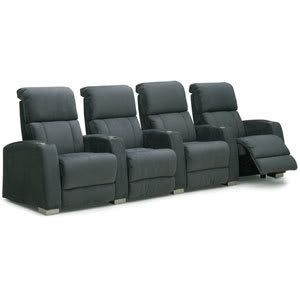 Want curved seating instead?


Plug the RF transmitter plugs into home theater amplifier. It will supply signal to all bass shaker units within a 200 ft radius.
Enjoy!
Here is the entire Palliser theater seating collection.
To purchase Palliser theater seating go to FOWfurniture.com