Rising interest for sustainable furniture has generated a powerfully fashionable pick of Earth-friendly home furnishings. Equipped with an arsenal of eco-conscious production methods that minimize waste and ecological impact, a collection of perceptive furniture manufacturers have realized significantly more inexpensive and effective ways to safeguard our fragile planet.
Some of our adult bedroom sets are manufactured in USA and over 99% of the lumber used to manufacture the bedrooms comes from within 500 miles of the factories – 80% from within 200 miles, thus reducing the carbon footprint associated with the transportation of the primary raw materials. Also, 150,000 poplar, ash, oak, pine, maple, and applewood tree seedlings were donated to the Virginia Department of Forestry and the planting of these trees allows the replacement of all trees used in the manufacture of furniture. Basically, a new tree is planted in Virginia every year for every tree that is harvested.
Sustainability and renewability both appear as terms that go with eco-friendly products and the production of those products. Basically, we need to use material responsibly over a long time. This concept is especially true to the way wood is harvested. The Forest Stewardship Council (FSC) offers rigorous guidelines for responsible forest management standards, and some of our kids' furniture collections are FSC certified.
The following kids' bedroom sets are FSC certified: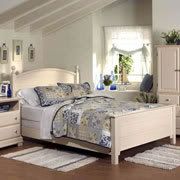 To purchase eco friendly bedrooms go to FOWfurniture.com