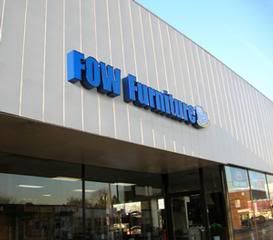 Contemporary Furniture Stores in NJ


With the new influx of condominiums in many towns in New Jersey and especially along the Hudson River such as Edgewater, West New York, Jersey City and others, these new residents are gravitating toward contemporary interiors. Young people, mid 20s to 40 years old, seem to be going in the contemporary direction, as opposed to what has been the preferred style in this area for the last 10 to 20 years. Most of these condominiums are contemporary; it has become an entry-level market for young consumers and homeowners who are old enough to have outgrown Ikea and finally want furnishings that are not throw-away items within a short time of ownership. These consumers are actually establishing themselves and purchasing items they are going to keep for years to come. It seems that consumers are looking at the clean, contemporary look as a refreshing change from the traditional styles of not too long ago. The only problem is where to find these contemporary furniture stores in NJ. Many have simply closed their doors forever due to the current economic downturn but there are still a few left.
The contemporary home furnishings movement is nearing its tipping point, gaining converts at a seemingly exponential rate and for perfect reasons. Following suit, upholstery choices are offered in a wider range of products. Vibrant fabric designs inspired by the contemporary textiles throughout the world bring back a welcome new vitality to the home furnishings. The same trend continues with the flooring. When it comes to contemporary area rugs, the possibilities are endless like warm, inviting color combinations that pair fresh pumpkin with spice red and soothing yellow bring fashion to floors by way of intriguing patterns and lush textures. Metals are the darlings of designers in contemporary fashion and home furnishings, and for a perfect reason. Whether added as legs of a sofa, or framed around case goods, metals transform the ordinary into something truly special. As that familiar and wise old saying goes, however, a little goes a long way, especially when it comes to design.
When a typical consumer walks into a contemporary furniture store they are greeted by unique, innovative piece of furniture like storage solutions that are paired with high design with functionality. Items that offer multifunctional features and lots of storage are becoming must-haves particularly for those that are a bit space-challenged. These types of multifunctional furnishings pieces usually with bright strokes of color add visual interest and storage which is perfect for those with smaller living spaces. These multifunctional pieces appeal to younger consumers who want to be organized, but at the same time have fun with their furniture. Simple, cheerful and modern pieces always have a way of making customers smile.
Consumers' purchases are lead by a multitude of interwoven and complex motivators. Instead of merely owning furniture, these younger consumers want thoughtfully constructed products that are contemporary in style and incorporate exotic or eye-catching materials. They don't want their interiors to fall flat. The fact is that furnishing a contemporary home, and in a fashion that objectively adds value, takes truly contemporary furniture stores' offerings that most stores don't posses. Adding the expertise of seriously talented, bone fide interior designers from contemporary/modern furniture stores in NJ and establishing actual budgets for contemporary home furnishings purchases at the onset transforms not only individual living spaces, but the industry at large.