Frustrated with typical futons? Wouldn't you rather have one that is less insipid in styling and even functionality for that matter? Sofa beds are the perfect alternative. Think about it. Ever seen a really contemporary looking futon? Sofa beds, on the other hand, can feature retro-contemporary styling. When sofa beds are in their sitting position they are indistinguishable from a typical sofa. Once you remove the pillows and pull out the sleeper, their true nature of versatility is revealed.
Let's take it a step further and consider innerspring convertible sofa beds with storage. Talk about incomparable versatility. Here's one example: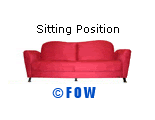 Convertible sofa beds, like the one pictured above, are so easy to use. If you want to store items such as pillows, sheets, or blankets, you effortlessly lift the sitting part of the convertible sofa bed to expose storage underneath. To put it back into sitting position, simply undo what you just did. To make it into a sleeper, lift it up to reveal the storage and keep pushing it until you hear 2 clicks. Slowly let it go down into a sleeper position. It's so simple.
Innerspring convertible sofa beds like the one pictured above are very different in construction compared to typical futons. We all know what an innerspring mattress is. The innerspring itself acts as a shock absorber. It allows the mattress to move up and down. The foams and fibers that surround the innerspring construction offer support as well as comfort. Now, imagine all that stuff that goes into a typical mattress inside of a sofa bed.
If you really want a retro-contemporary looking sofa bed, slap on some funky color of microfiber on it. Microfibers are 100% polyester synthetic fabrics that feel like suede to the touch and since they are synthetic they are inherently stain resistant. If you pour a liquid over it, you will actually see it bead. Even if the spilled liquid seeps in you simply take a mild solution of soap and water to clean it. This characteristic is great if you have kids or pets. Talk about being family friendly.
So to retain the stain resistant capabilities of the fabric I would suggest staying with 100% polyester synthetics. All polyester synthetics don't feel and look like microfiber. If microfiber is not you thing, there are chenille synthetics. Just stay away from cotton. Ever seen an old sofa when you can actually see the imprint where someone sat there for years? Cotton will do that. Synthetics will never do that.
To purchase these sofa beds go to FOWfurniture.com