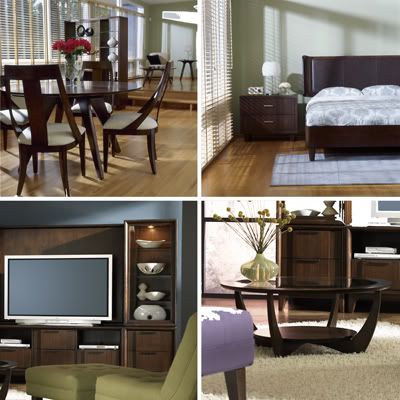 Simply Modern by Blake Tovin is a unique collection of furniture pieces that heavily incorporates mid-twentieth century contemporary furniture designs. These exceptional furniture pieces are classic and include beautiful American walnut veneers that are perfectly matched as well as finished to accent the grain elements.
As the demand for modern American design quickly grows in popularity as interior designers, architects, and industrial designers Simply Modern furniture collections answers the call in this category. The Simply Modern bedrooms like Ventura and Hayward each feature a signature tufted platform bed and elegant accent pieces. The Simply Modern dining rooms features a rectangular extension table and a round table with a choice of either an upholstered chair or a ribbon chair. The Simply Modern occasional tables and the Simply Modern room divider complete this collection.
When asked about what inspired the Simply Modern Collection Blake Tovin said, "I took Edward J. Wormley and Dunbar Furniture's less austere, less industrial approach to Mid-Century Modern furniture. We chose walnut, which was used heavily in Mid-Century American furniture – it's a dark wood, with its own warmth and color. There's little metal, except for the hardware, with is brushed nickel. There are some Scandinavian elements, but mostly the group is late 1940s/early 1950s Dunbar."
Some of the casegood features of the Simply Modern furniture collection by Blake Tovin are:
• American walnut veneers.
• Natural finish wood drawers.
• French and English dovetail construction.
• Smooth action full extension glides.
• Dust proofing between drawers.
• Recessed back panels.
• Original design metal cast drawer pulls.
• Natural top grain leather headboards.
To purchase these products go to FOWfurniture.com