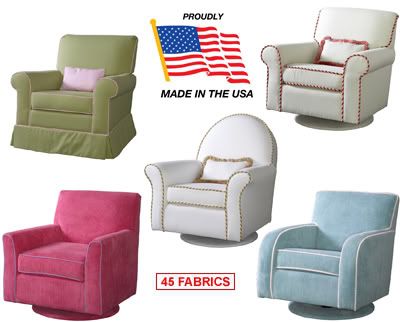 Kids' Glider Rockers
You want you child to have a rocker? No problem, they rock. You want your child to have a glider? No problem, they glide too.
Are you tired of the same old kids' glider rockers? If you did find one, is it just another import with 1 or possibly 2 fabric options?
Our kids glider rockers are meticulously designed to provide the ultimate in comfort seating. They are so comfortable; they rock young and old to sleep. These kids' glider rockers are proudly made in USA and feature exceptionally smooth glider/rocker mechanism. Each kids' glider rocker is offered in 45 custom fabrics as well as 45 custom welts. For those that are not familiar with the term welt, it is the accent piping that is sawn into the seam of the glider rocker. With all these fabric and welt options, the possibilities are endless when it comes to the glider that they can call their very own.
For those looking for a more traditional look for their child's glider rocker, we offer a glider rocker with rolled arms that can be ordered with a skirt or without a skirt. For those looking for more of a contemporary look, we offer a glider rocker with track arms. Even if you want one with a round back, we have it.
To purchase these products go to FOWfurniture.com